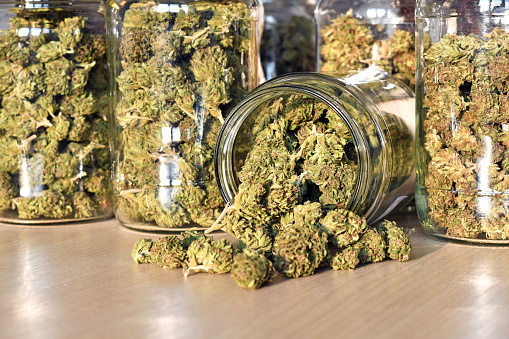 U.S, November 25, 2019 (GREENMARKETREPORT) Ever since states began to legalize medical and recreational marijuana, the cannabis business is booming. Eleven states and the District of Columbia have passed laws making recreational marijuana use legal. Another 22 states have laws legalizing medical marijuana. The Farm Bill of 2018 legalized hemp for industrial purposes, including the production of CBD oil.
It is not too late to get in on the profits by starting your own cannabis business. If you're thinking that too much startup capital is needed, then take a look at these cannabis entrepreneurs.
Success Stories
Gofire creators Peter Calfree and John Woodbine started Gofire with one goal: to create the perfect vaporizer. The vaporizer they created delivers a precise dosage of cannabis. They started their business with $200, used to bribe a local college student for access to a 3-D printer to make a prototype. They used that prototype to get the rest of their funding secured.
Fruit Slabs founders Roxanne Dennant and Brian Cona used just $1,000 to buy materials and equipment to make organic fruit leather edibles. They started out by selling to friends and family and now, their product is available in 65 stores across California.
Think Outside the Dispensary
When it comes to what kind of business to start, many people automatically think about starting a dispensary like TheAmsterdam or a grow operation. While this may seem like the most profitable idea, consider the fact that dispensaries and grow operations are the most strictly regulated. Also consider that as more states legalize cannabis, these types of businesses will begin seeing fewer and fewer profits. The crucial thing when it comes to starting a business in any industry is to come up with a unique idea that fulfills an unmet need. While funding a grow operation or dispensary is probably the most expensive option, there are options that do not touch the plant itself and thus, require less funding than the $1 million in cash needed to start a dispensary in some locations.
Ancillary marijuana businesses, however, tend to be less burdened with the red tape and high taxes associated with businesses that directly touch the cannabis. They also tend to cost less in startup capital, as mentioned above. For example, if you're a foodie, you can create a unique line of edible treats. The startup cost is generally only the ingredients. If you are an artist, you could consider designing your own unique line of cannabis-themed t-shirts or accessories. Perhaps you know your way around a cannabis-legal city and can offer tourists a unique glance into the area.
Another area where you can get into the cannabis business with little funding is in the media sector. You can start your own blog and fill it with cannabis-related news, reviews of products, and recipes for edibles. YouTube also provides a way to get into the cannabis media business. You can start a channel reviewing different vaporizers, products, and even marijuana strains. Kick in some pay-per-click advertising, and you can start making money with very little startup funds needed.
Ways to Secure Funding
If your idea is the kind of groundbreaking concept that is beyond your financial means, you don't have to fully fund the venture yourself. You can initially approach friends and family members to kick in on startup costs. Be sure that you have a rock-solid business plan in place and put how and when you'll repay the loan in writing. You can also consider crowdfunding your venture. Platforms like Kickstarter have given many a cash-poor entrepreneur the necessary startup funds to get going. Other sites like Patreon can help get a media startup going. Of course, you need to be able to offer your supporters something in return.
Once you've gotten started and realize that it's time to expand, you can begin looking for angel investors. They will put down their own capital as an investment and are often the first outsiders to invest. They also make great mentors. The trick is to attract one!
The cannabis industry is expected to be worth $20.2 billion by 2021. It presents many exciting opportunities for any entrepreneur. You don't have to have a lot of startup capital. Just an amazing idea and the desire to succeed.